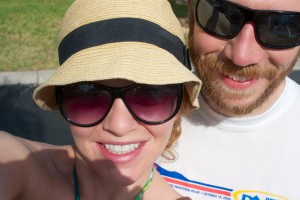 Well the first leg of our trip is over. We made it safely to Tampa and are currently flying over Central America on our way to Panama City. While it has been a glorious month of seeing family and friends across the country, I cannot begin to describe the level of excitement I feel now that we are officially out of the country and starting our year abroad. It's absolutely amazing that we get this opportunity and I only hope that we can live this opportunity to the fullest.
Before we get into all the posts about what I hope will be our crazy adventures abroad, I thought I would do a post finishing up our road trip.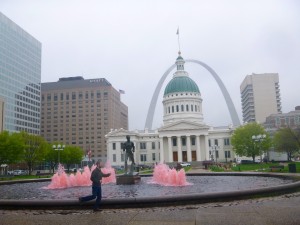 After leaving Oklahoma City and my sister and her adorable family, we headed to Saint Louis where we stayed in a small, historic neighborhood and had an amazing dinner, fantastic baked Brussel Sprouts, followed by a rainy, though incredibly fun trip to the Arch. While we didn't go up, too cloudy to see anything, it was cool enough to hang out under it. I even fulfilled a weird lifelong dream and did an arch in front of the Arch. Don't ask me where I got the idea but it was definitely fun for me.
The next day we started a series of quick stops at a bunch of friends' houses. We got to hang with our friends Reid and Jamie and their two super sweet children in Indianapolis, Chris even got to sleep in a pretty pink bed!, see Chris' brother Andy in his beautiful new house in Cincinnati, and then head to Charlottesville, Virginia to hang with Meg and Dave and their cute cat. We ate, drank great microbrews, and spent hours hanging out and chatting with everyone. Truly was a relaxing and beautiful couple days!
We then headed to Northern Ohio for a few days to hang with the Pattons and a bit of my family. We had some great vegetarian food, thanks Pattie!, and spent a day at the Cleveland Science Center with my best bud Mary and my nephew Nick. I couldn't believe how big he is getting and I am a bit worried then when we get back next year he may be taller than me! We also caught up with my cousin, Brittany, my Dad's family, and a friend Brian. It was really nice to be back in Ohio and to show Chris a bit more of where I grew up. It really is a pretty and peaceful place and I definitely miss aspects of it, such as driving the Polaris with Mare!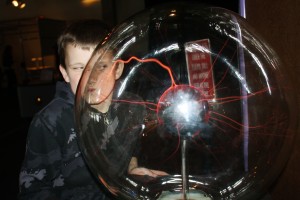 Our last stop of driving was a visit to Fort Wayne, Indiana. I cannot tell you how excited I was to get out of that car for the last time!  It had been packed to the brim and I have not gelt that claustrophobic in a while. We spent a few amazing days hanging out with Chris' family and taking care of all of our last minute chores. They even hosted a party for us so we could see the extended family, as well as Chris' brother Ben who drove down from Purdue for just the night. Plus we got to visit with the Rowes and Ryans and spend time with their adorable children!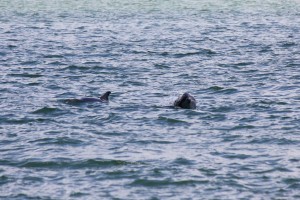 After what felt like way too short of a time and some really hard goodbyes, we flew down to Tampa, Florida to hang with my Mom, David, and Grandma. This was an amazing four days that included a great dolphin tour, where I got to test out my new telescope lens, an awesome Segway Tour, seriously one of the most fun things we have done, and plenty of great food and family.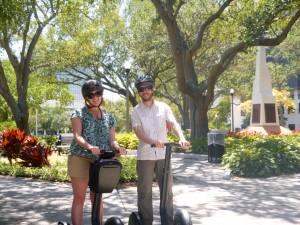 It's been a wonderful month and it is so much easier leaving know we got to see so many people. I know Chris already said this but thank you to everyone who hosted us and opened up their homes!