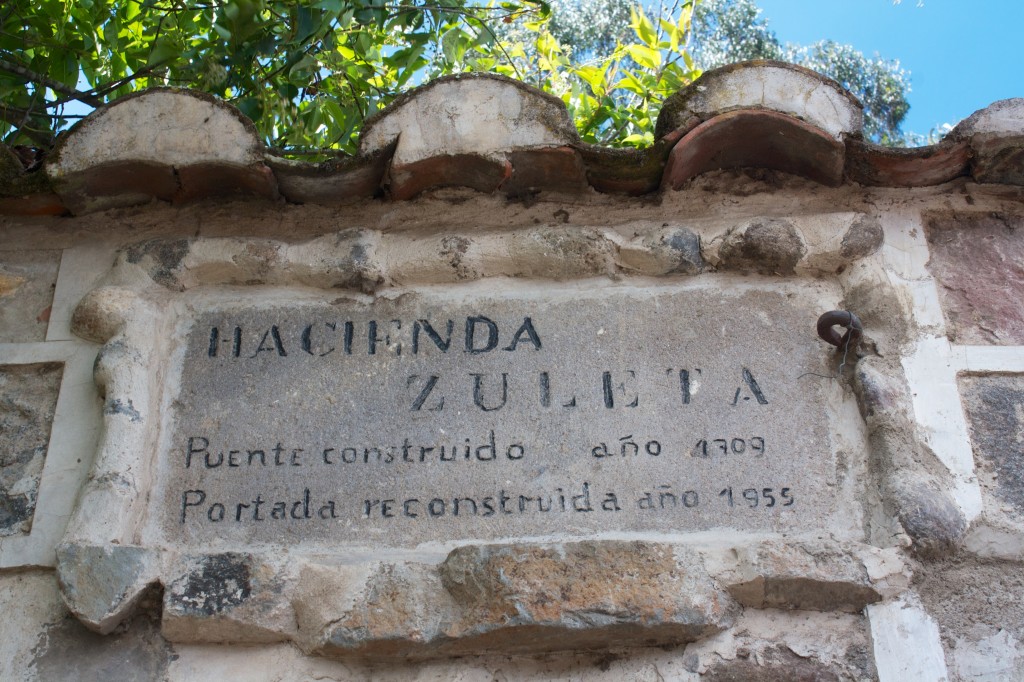 For the last three, very short weeks, Chris and I have been volunteering as Wwoofers (World Wide Opportunities at Organic Farms) at the beautiful and historic Hacienda Zuleta in northern Ecuador. It has been a lovely few weeks and as it comes to end Chris and I are sad to again have to say goodbye to something we love.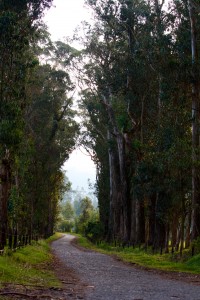 The tree lined, cobblestone walkway to the Hacienda.
Chris and I had originally came across the opportunity to volunteer here back in January. After reading their description about the opportunity to stay at one of  the most historic Haciendas in Ecuador, while helping out and learning in a completely organic vegetable garden, complete with Ecuadorian heirloom veggies, we knew it would be a great place for us. Plus Hacienda Zuleta is incredibly involved in their community, running a Condor Rehabilitation Center, a public library, and after-school tutoring program for the children of the area. They also provide micro-financing support to women who wish to sell their embroidery as well as just in general provide jobs in an area where there wouldn't be any.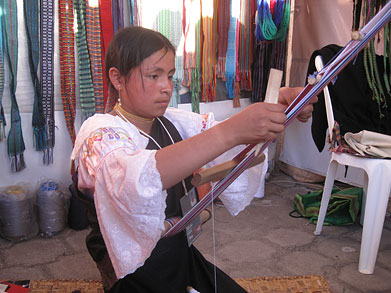 For those of you who aren't familiar a Hacienda is basically a large estate/farm. These farms came about during the Spanish conquest, as large tracts of land were granted to those Spanish who supported and participated in this assault. As you can imagine, there is definitely some pretty horrible histories behind these haciendas (basically the owners didn't come to just own the land but also the people on it) but as the current Lasso family didn't come to own Zuleta till 1898, I'll refrain from getting into it. The Lasso family, which includes Ecuadorian Ex-President, Galo Plaza Lasso, has built a large and impressive farm, along with their foundation, that supports not only themselves but much of the Zuleta community. The current owner and grandson of Senior Lasso, Fernando, is a super passionate and energetic guy who definitely takes his responsibilities and legacy seriously.
              The front of the Hacienda                                               Staff Housing
Today the Hacienda is a small, boutique hotel as well as a large farm of 400 milk producing vacas (cattle), 2,000 ovejas (sheep), caballos (horses), alpacas (alpacas), trout (yes as in the fish), as well as barley and corn. . It's set in an incredible valley, at around 9,500 feet elevation, in northern Ecuador and is surrounded by the indigenous community of Zuleta. We worked specifically in the vegetable garden that supports the kitchen that feeds the guests as well as the staff, which thankfully, oh my goodness was the food amazing!, included us! I have to say they spoiled us ridiculously between the food, a comfortable bed and room complete with fireplace, real towels instead of our little camping ones, and best of all, hot water bottles to cuddle with every night.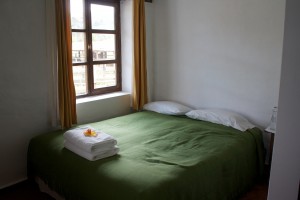 We definitely got a bit spoiled!
Working in the garden was wonderful for Chris and I. We both love being outside and getting to spend every waking moment for 3 weeks doing so was a wonderful experience for us. We also found, well I knew this but Chris discovered it, that we LOVE working in a garden and that we can't wait to have one of our own. Seeing your physical labor turn into something, especially something tangible that you can eat!, is incredibly rewarding and we both loved the meditation type aspect of spending hours weeding, hoeing, and planting. I am sure somewhere my father is laughing or groaning about all the time he spent trying to get me to help in the garden and here I am weeding for fun!
                         Weeding away!                                                  Building beds!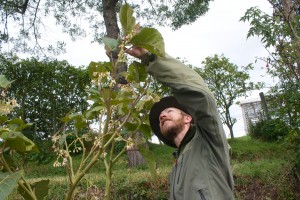 Squishing bugs!
A typical day started at 7am, when we would head to breakfast before heading down to the garden. (Well actually a typical day for us started at 4:30am as that is when the milking started right outside our window.) The garden had everything from American staples like broccoli and zucchini to exotic Ecuadorian classics like quinoa and passion fruit. It was especially cool to see the beans and corn there, which were all heirloom and indigenous to the Andes.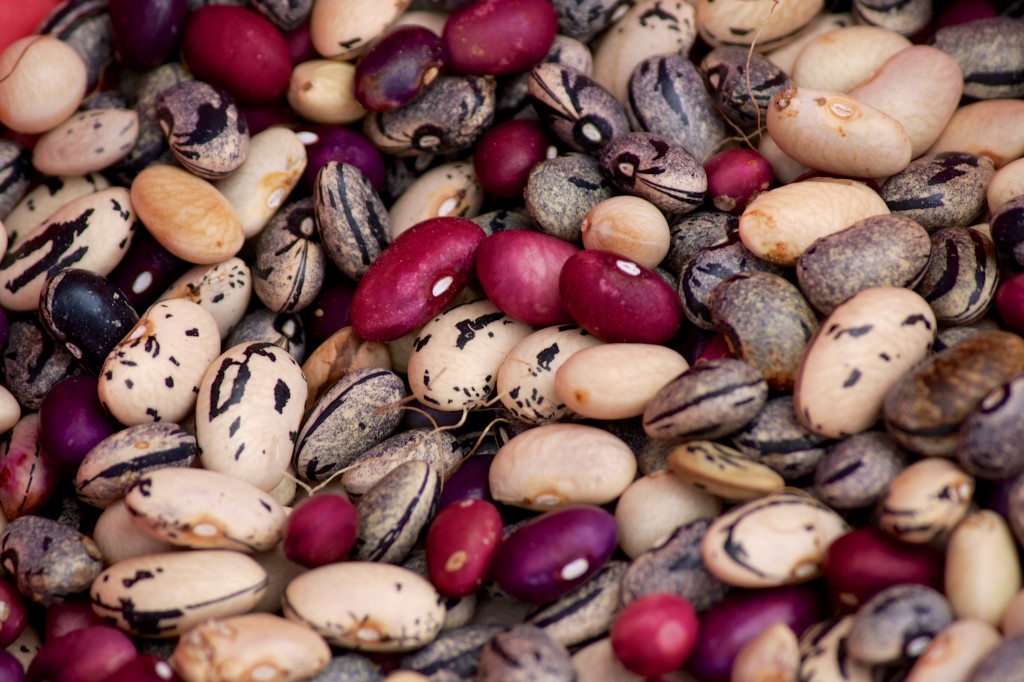 Depending on the day, we would spend hours weeding beds or building beds or helping with planting and picking. We also got to do some random side projects like cleaning quinoa (me) and turning compost (Chris). I think I definitely got the better end of these jobs!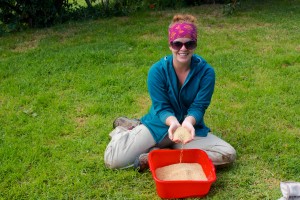 Cleaning quinoa. You gently shift the quinoa grains through your fingers and the wind carries away the husks while the quinoa falls back into the bin.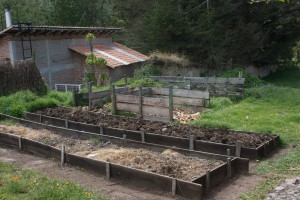 Chris' compost piles!
We worked with a wonderful woman Seniora Andi, who is an ex-pat from Germany, as well as our main boss, Ramiro. Ramiro is from the community and speaks basically no English, though he absolutely loved learning the English words for things. I have to say we were really happy to find out how much our Spanish has improved and we actually had some real conversations with him. Like most Ecuadorians he was obsessed with the fact we didn't have children yet (seriously being a woman in your 20's without a kid in this very Catholic country is basically unheard of) and when I missed a bit of work due to some leftover stomach issues, he was dead set on the thought I was expecting (for the record, I'm not). Of course then he destroyed our stereotypes of all Ecuadorians having huge families when he told us he only wants two kids (he has one) and came from a family of 3.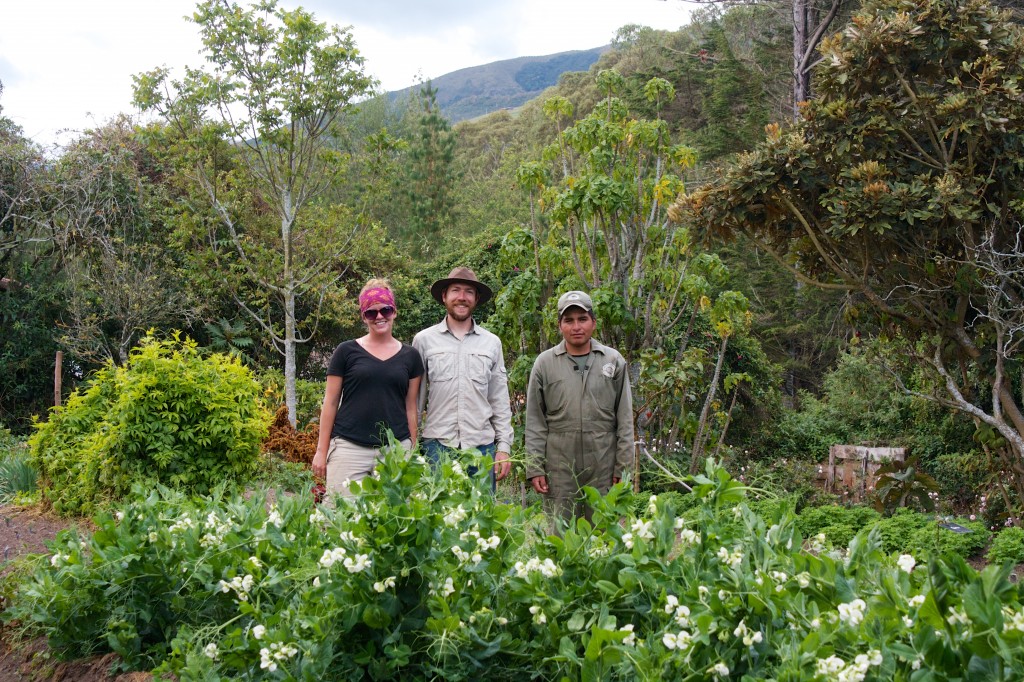 Our work day ended at 4pm. If we were too exhausted we would spend our evenings reading by our cosy fire or if we had a bit of energy we would go for walks. The entire estate was the most beautiful, serene place you can imagine and we loved getting the opportunity to explore and relax in it. I especially loved the animals and spent hours playing with the gigantic Fido and loving Dominga (dogs), as well as a donkey, lots of cows and calfs, horses, and even a baby bunny!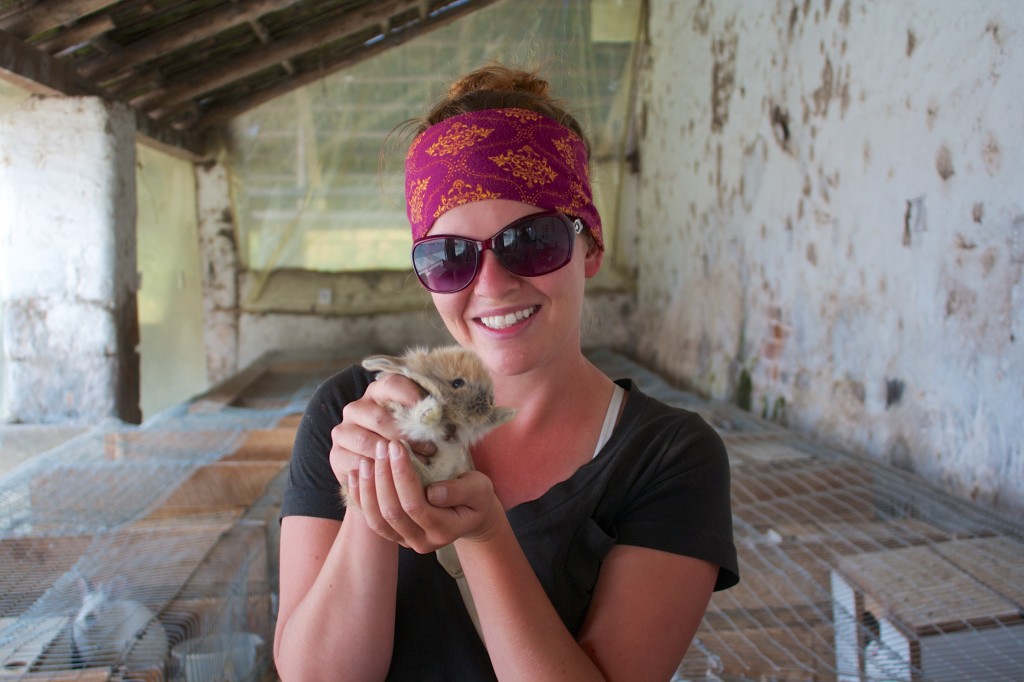 Sometime between 7pm and 9pm we would have a noisy, boisterous dinner with the other volunteers from the Condor Project or the tourism group. The food was incredible, especially the Quinoa soup and rhubarb/strawberry cobbler, and I am obsessed with the Ecuadorian tradition of always starting a meal with a bowl of soup!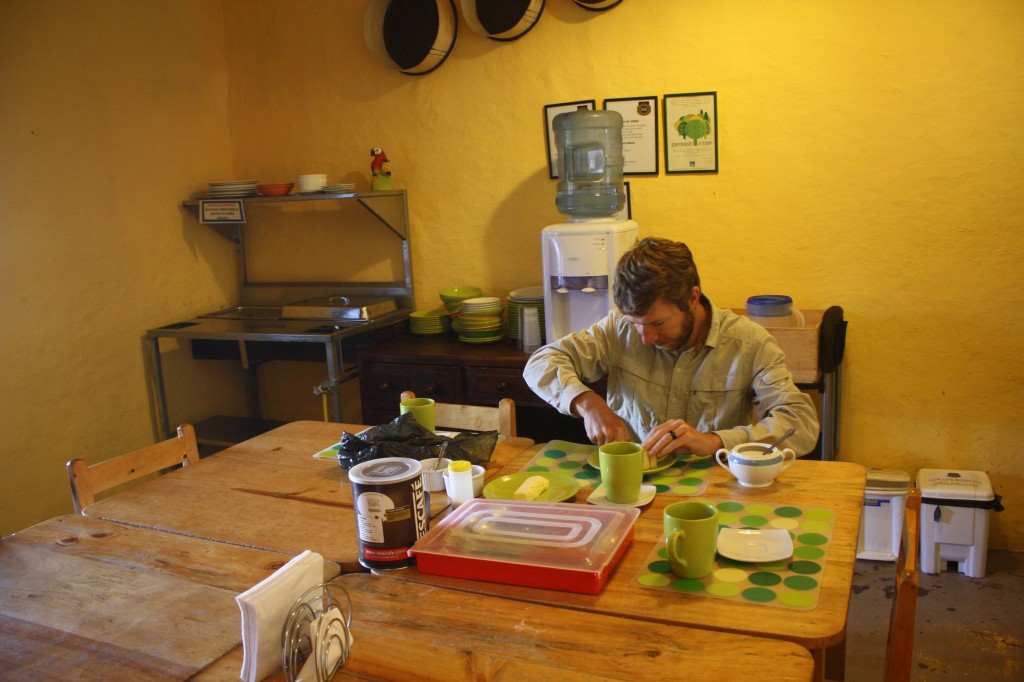 Meal Room
During our weekends we took some super long hikes through the beautiful countryside as well as taking a day to visit the Equator and get some non-cream ice cream! (This little place in town called Seniora Rosalita makes delicious ice cream with no-milk. The flavors were all the amazing local Andean fruits and the ice comes from a glacier on top of a volcano!) We also got to take our first horseback ride, which turned out to be fantastic as we saw a double rainbow over the Hacienda as well as the snow covered peak of Volcan Cayambe.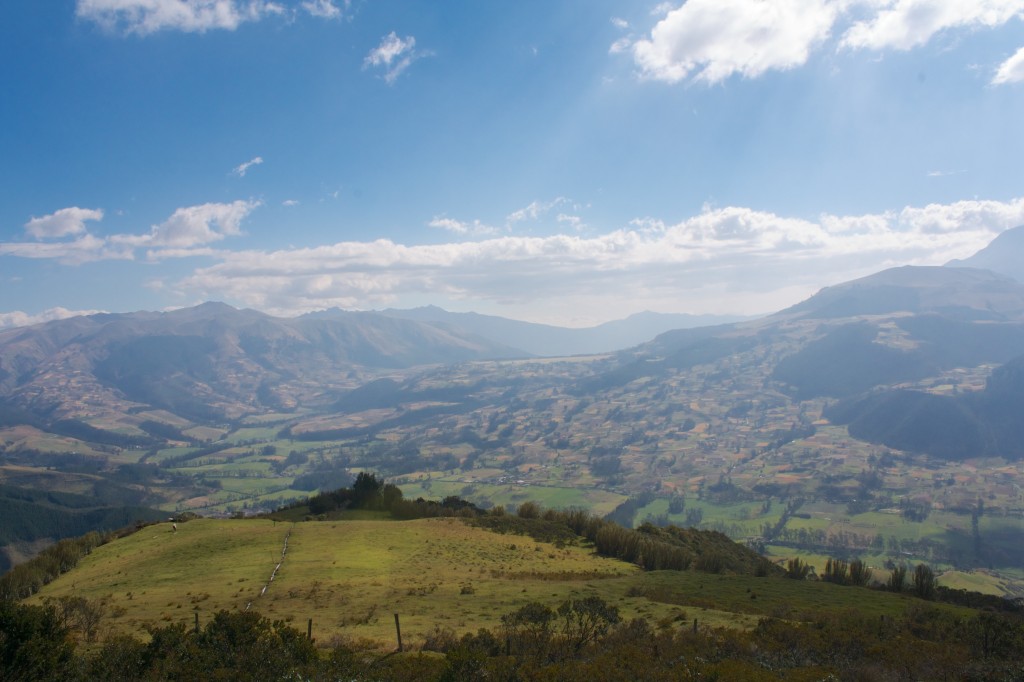 View of Zuleta from Above
Overall the entire experience was just wonderful. It was definitely re-iterated to Chris and I how much we love having an outdoor lifestyle where we actually take the time to watch the sunset, sit in front of a fire, and talk to one another and I can only hope we continue to work to keep technology and busy-ness from taking over our lives.
We also learned a ton of valuable information on organic gardening and as Chris and I continue our path to living more healthy and environmentally friendly, it will definitely be useful. I will say that I wish we had had a bit more interaction with the local community and I think in the future we will stick to more local, immersion type projects, rather than working in tourism with tons of other foreigners. But then again, there is something to be said for spending 3 weeks in the lap of luxury, where I didn't even once have to kick a spider out of my bed! (Or maybe I should say Chris had to kick a spider out of our bed!)
Goodbye Zuleta, We will definitely miss you!