After a month or more of being almost completely off the radar, Chris and I are back in Internet civilization. (Well for the next 12 hours that is.) For the last month we have been bunkering down in a little town, Balaka, in Southern Malawi, doing some volunteer work and staying with a wonderful family. We've had very limited Internet, or electricity for that matter, and therefore been a bit behind in our posting.
It's been a roller coaster of a time, with Chris and I learning more in 30 days than I think I did the whole time I was in college. However, before we get into our experience volunteering and our exposure to NGOs, development, and international aid, we thought we would give an introduction to Malawi and Balaka.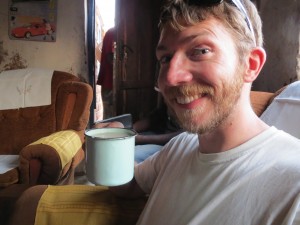 Chris drinking homemade "Sweet Beer," a thickish non-alcoholic corn drink that is everywhere in rural Malawi
Malawi, The Warm Heart of Africa, is located in the Southern part of Africa, towards the eastern side. It's a tiny country, no bigger than the state of Pennsylvania, with half the land being covered by Lake Malawi. Unfortunately as it is surrounded by some of the big tourist destinations, Tanzania, South Africa, Victoria Falls, foreigners often overlook it, in favor of these more popular spots. However, it's an incredibly friendly country, with quite a bit to offer. I can already tell you after traveling in Tanzania that Malawi is much easier to navigate and the people much less "toutey".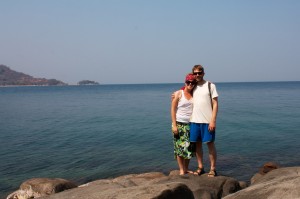 Chris and I celebrating our 1 year wedding anniversary at Lake Malawi
After arriving by bus to Lilongwe, Balaka's very oddly chosen capitol, we were met and driven down to Balaka by our host for the next month. The roads in Malawi are a bit rough, long past their prime, and driven by drivers who to us seem like they have a bit of a death wish. Of course after seeing this Driving School sign, we understood a bit better why that is.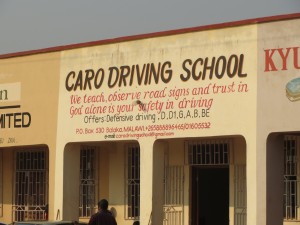 No offense, but I am pretty sure God would want you to drive safely and not just depend on him
We spent the next few days adjusting to the town and getting settled into our "home". We visited the NGO where we would be volunteering and got the lay of the land. Unfortunately, besides being hot, Balaka doesn't have a ton to offer it. Not located on Lake Malawi like many of the towns or near the mountains like Malawi's biggest town, Blantyre, it is located on a dry, dusty plateau, without a hill or even a bit of green around it. It is often plagued with drought and this, combined with its high HIV rate and central location to many rural areas, has made it an epi-center of the Relief world in Malawi. It is however fairly centrally located and Chris and I got to do some great weekend trips.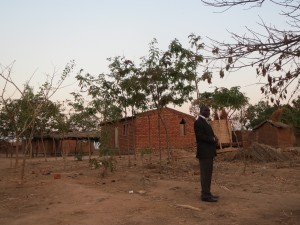 Our host, standing near one of the local villages
Whatever Balaka lacks in physical beauty it definitely makes up for in wonderful people. We met so many warm people who were incredibly eager to share their time with us and often went out of their way to make us feel at home. Thankfully many Malawians, really any who attended Secondary School, speak decent if not great English. This afforded us a chance to really get to know some people and find out what Malawi is truly like.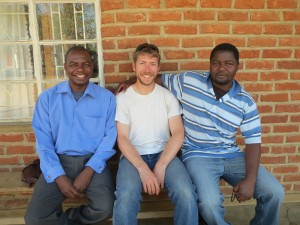 Chris and two of our new friends
Our host family was especially wonderful. Consisting of the Mom, Bahati, daughter, Asante, and their house helper, Jenny, there were all wonderfully warm and eager to make sure we had a good experience. The food was delicious (turns out I really love Nsima, the staple stiff corn porridge that is Malawi's national food) and the home was lovely. Bahati and I especially had some great conversations about differences between our countries and stereotypes that each holds about the other. It never occurred to me but the same way everyone in the US just assumes everyone in Malawi is poor (totally not true by the way), everyone in Malawi assumes everyone in the US is incredibly rich and that everything is perfect and modern. One of my favorite moments was when I told a car full of people that I too had grown up on a dirt road. They just couldn't' believe it.
Jenny, Asante, and Me
One of the other best parts was the next-door neighbor had a four month old son, Lombani, who I fell deeply in love with. I spent most of my days after work sitting on the front porch or out back under the trees playing with him. He was the sweetest baby, loves cuddling, and it was nice to be able to just relax and play with him. (Then hand him back to his Mom!)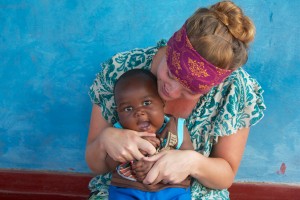 My new buddy, good thing he wouldn't fit in my backpack
So there is a bit about Malawi and our time there. We have been up to much more in the last month and half than is in this little post but it's going to take us a bit of time to get caught up. Overall we are having an incredibly impactful experience in South East Africa, learning a ton, and really having some wonderful times.
Tomorrow we head up Mount Kilimanjaro for the next 7 days! I am a bit terrified, Chris is a just a bit excited, and we are both trying to stay positive that we will make it to the top. Stay tuned though, as there will be some posts popping up while we are gone.
Kwaheri!