Written by Chris
Our final stop on this big whirlwind of ours was to be New Zealand, but, due to flight availability, we ended up going through Sydney instead. So we decided to make the most of it and spend a week in Australia on our way to kiwi country.
AND we have a visitor!
Mindy's bestest friend, Mary, came out to join us for a while on this leg of the journey and it is great to have her along!
While most of North America was enjoying the Polar Vortex and various other freezes, Australia has been having a record hot summer with high temperatures over 111 F. Fortunately, we came in at the tail end of summer and missed all of that but, unfortunately, this time of year also means rain. After successfully dodging rain and monsoon seasons all over the world, our first few days in Sydney treated us to rain and gloom. But that didn't stop us from exploring.
We stayed in the King's Cross neighborhood which was a trendy little area just about a mile from town center. Australia really marks a return to civilization for us after 3 months in SE Asia and 3 months in Africa and we have really been living it up. It is nice to have all the great, healthy foods we have been missing (fancy pizza, burritos, pitas, Australian meat pies, and burritos … again), being able to buy things without having to weed through counterfeits, and, best of all, enjoying safe drinking water RIGHT OUT OF THE TAP!
It is the little things that you miss the most. We did spend some time seeing the sights in and around Sydney and here are some of the highlights.
Mardi Gras / Gay Pride Parade
40 days until Easter and it's time for a parade! For reasons not clear to us, the Mardi Gras parade in Sydney is also their Gay Pride Parade. In fact, there was nothing Mardi Gras about the parade except for the date. It was, however, a pretty great party with music, beach balls, and some excellent floats.
They are doing a great job of promoting gay rights, awareness and education. I even learned that the "Gay and Lesbian" label has expanded to LGBT and now on to LGBQTI and that facebook now offers over 50 choices for gender. I was also surprised with the range of groups showing support with a float in the parade, most notably the Australian armed forces; army, navy, and air force. An impressive show of public support, considering we only just got past "don't ask, don't tell" in the US military.
It's no San Francisco but it was a pretty fun time.
Blue Mountains
About a 2-hour train ride from downtown Sydney is Blue Mountain National Park. It is so named for the mountains which appear blue from a distance for the same reason the sky is blue except that the effect is enhanced by the mist of oil from the surrounding eucalyptus trees. We started from the unbelievably cute mountain town of Katoomba perched high on one side of the valley and we toured along the edge taking in the views of the mountains out into the valley and of the many waterfalls dumping down into it.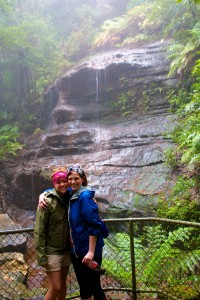 The morning fog cover left us very worried, but things cleared up and gave us our first dry day for some excellent hiking and views.
Sydney Opera
The Sydney Opera House and nearby harbor bridge are an iconic sight and we didn't miss our chance to check them out.
The building itself is quite beautiful situated on the harbor. At certain times of day it looked a bit drab, but lit up at night is when it is at its best. I was really struck with the architectural design of it as well. It seems that the building's segments were designed as pieces cut from a single sphere: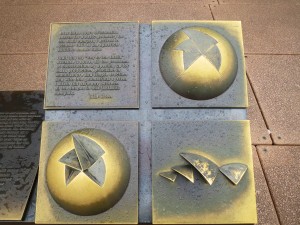 But why stop at just looking? There were 3 operas playing during the time we were there. Carmen (a Spanish opera by Bizet) and The Magic Flute (German, Mozart) didn't fit our schedule so we went to see Eugene Onegin, a Russian opera by Tchaikovsky.
Though I tried, I am afraid I am not a fan of opera. It is not that is was in Russian; we had a synopsis of each act and there were English subtitles and the story was quite easy to follow. I simply did not like the "opera voice" that everything was sung in. I have no doubt that the performers were some of the best in the world at what they do but it just wasn't my cup of tea.
I did, however, enjoy the inside of the opera house just as much as the outside. The style brings you right back to the '70s and it was full of exposed concrete and wood. The opera hall itself was surprisingly small with the orchestra crammed underneath the stage and even our cheap seats felt reasonably close.
Taronga Zoo
Rather than take a safari into the outback, we used our limited time to see the crazy Australian animals en masse at the Taronga Zoo in Sydney.
The zoo itself was fabulous. It had all the weirdos we were looking for; platypus, tazmanian devil, kangaroo, wallaby, and Australians (G'day? What's that? I'm not your mate :). The zoo was beautifully arranged and landscaped and its location across the harbor from downtown Sydney was used to great effect.
They also have a few innovative enclosures (might be old news to zoo regulars, but it has been a while since I've been to one). There was one open area full of kangaroos and wallabys and lizards and stuff that visitors could just walk through, so long as they stayed on the path. No fences or barriers or anything, just walking through 'roo country with a member of zoo staff nearby in case things got rowdy. There was another similar enclosure for lemurs that had just opened up to visitors the day before. It was a great way to get close to the animals and I was impressed at how well the design let us check each other out without freaking each other out.
And we caught a seal show!
———————————
Australia is a trip in itself and our week did not do it justice. We still experienced a bit of the culture of downtown Sydney and got to see the sights on our way through. But now we're off to the neighbor to the East. Cheers, mate!