Written by Mindy
It has been about two weeks since our last post and while this may seem a bit cliché, what an incredible two weeks it has been. We just got back to Quito after spending the last part of our journey in the Galapagos Islands, hiking, snorkeling and cruising around on a boat, the King of the Seas. This post is an overview (sorry it's a long one!) of the entire trip, though Chris and I will be posting some follow-ups about specific highlights sometime tomorrow.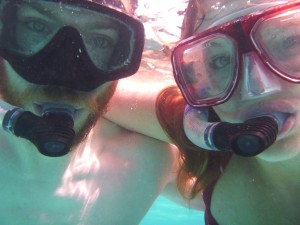 We first arrived to these islands of about 30,000 people (and funnily enough 30,000 sea lions) a week ago Thursday. After a bumpy and entertaining cab ride in the back of a pick-up truck (shh, don't tell our mothers), we settled into our first hostel at Puerto Ayora. There we took some time to explore the island, get some yummy $5 dinner (grilled chicken, rice, and veggies with a glass of fresh juice), and start getting the lay of the land. It's an adorable town with lots of little shops, plenty of cheap and wonderful restaurants, and locals who are all incredibly friendly, even if your Spanish is below par.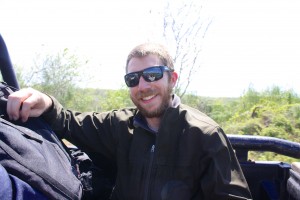 We spent the next few days touring the different boat companies/booking our 8 day cruise, (Though booking last minute saved us a bundle, it was definitely not as easy as we had heard it would be. It was, however, really nice to know that our money was being spent locally rather than on some big company off the mainland.), and exploring some of the local spots, such as the gorgeous white sand beach of Tortuga Bay and the Charles Darwin Research Center.
The Charles Darwin Research Center, part of the National Galapagos Park, is an incredible undertaking of conservation, hosting breeding centers for the different species of giant Tortoises along with the brightly colored land iguanas, and taking on the immensely difficult task of eradicating invasive species that are taking over the islands; rats, goats, Guava trees, etc. They are also working hard with the local population to engage them in the conservation effort (all guides for the National Park now have to be a native of the Galapagos) and creating rules and regulations that take into consideration the locals' long-held customs such as fishing while also working to conserve this special area and its species.
These baby tortoises are about a year old and roughly the size of your palm. They will live at the Center till they are about 7 when they will be released into the wild where they can live to be over a 180 years old!
After a few days of relaxing on the islands, we headed out to our boat. We had booked a budget style boat so we were pleasantly surprised to find a fun and engaging crew as well as some really great and plentiful food. While the boat itself was a bit small, wow was our cabin tiny!, it had plenty of sort of hot water and a window right by my bunk. While Chris was a bit concerned I might fall out, the window was one of my favorite parts of the trip. Most nights I fell asleep to a light sea breeze and an incredible amount of stars. Then in the morning I would wake up to Sea Lions barking, birds flying by, water lapping and chef Ivan singing.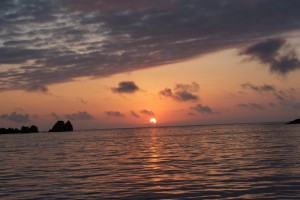 The sunrise from my bunk!
Another great part of the boat was that almost all the other passengers (12 total) were also backpackers. We had a great time playing cards, chatting about all of our different backgrounds, none of us were from the same country, and sharing backpacker war stories. This was especially nice for Chris and I since we are such newbies to the travel world and definitely needed some tips. It was also incredibly reassuring to meet so many other people who are travelling long-term, understand it, and who have had such positive experiences. Definitely makes us feel a bit less isolated.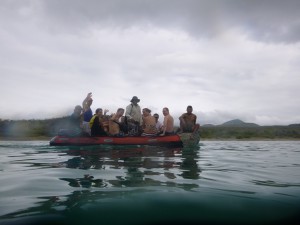 Of course the best part of the boat overall was the islands and the trip itself. It felt a bit like we travelled to a different world or one that is a bit in the past, where animals are incredibly prevalent, not at all afraid of us, and everything is just a bit stranger or cooler than everywhere else.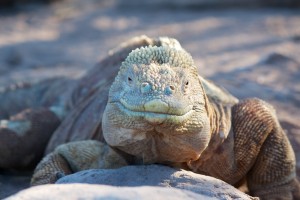 Everyday we would go hiking and snorkeling on different islands. Some of the islands were an all-flat dessert while others were hilly with trees and shrubs covering them.
There were amazing jagged cliffs down to the seas, stunning white sandy beaches, beautiful coral and above all an astonishing amount of animals covering the land, cliffs, and sea. We would often be able to get within inches of the animals (or in the case of the sea lions, them within inches of us!) and it was so wonderful to get to experience them in their natural habitat. Chris' favorite were the Blue-Footed Boobies that were amazing, graceful flyers/divers but then ridiculous on land, waddling back and forth and holding up their big blue feet to attract a mate. My favorite, of course, was a tie between the Giant Tortoise and the Sea Turtles. Both of which to me just seem so peaceful and content inching their way along on land or flying elegantly through the water. We also both dearly loved the Sea Lions that were constantly darting around us while snorkeling and always trying to get us to play with them.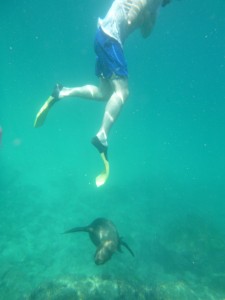 After the boat trip we spent our last two days on the Island Isabella were we hiked an active volcano, last erupted in 2005!, and got to feel the steam coming out of the fumaroles. It was such a cool hike! We saw the world's second largest crater (the first being the Ngorongoro crater in Tanzania which we are also hoping to see) as well as the area around the volcano that had been covered in lava. You could actually see exactly where the lava had flowed and it was so neat seeing the formation and craters it makes. We also got to spend some time with a local guide who walked us through the importance of bringing tourism to the islands, often a controversial topic, and what our tourism dollars mean to the Galapagos Park in terms of supporting the archipelago and to the people in terms of generating an eco-friendly income.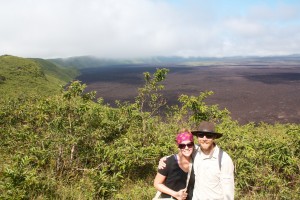 Overall the trip was so much more than I ever could have expected. I knew there would be animals and volcanoes but I had no idea what that would look like or feel like to be a part of it. It was beautiful, strange, engaging and above all just plain fun to be there and I can only hope that the remainder of the trip is 1/10th of what this was.